Carrara on Linux
This document is work in progress. Please email if you have any experiences installing Carrara on Linux
Overview
Carrara is a software package by Eovia for PCs and Mac that allows the creation and rendering of 3D images. The Pro version and the Grid extension support network rendering.
This document describes how a version 5 render node can be installed on an Intel Linux workstation with a Windows PC as the host. This is done with the assistance of a piece of software called "Wine" which to the running software, looks and behaves like Windows but in a Linux environment.
The reason you might want to do this is so that you can run several render nodes without the need for purchasing several copies of Windows. My experiments with using this technique for the full version of Carrara have not been so successful so I would recommend that your driving machine is still Windows. These techniques should work with Macs but I don'thave any experience with that platform.
What you will need:
Two or more PCs with network cards
A recent linux distribution (Fedora Core 1 was used for this experiment)
Wine (from Wine HQ)
Visual C runtime from Microsoft
Eovia network node install (on your CD)
The latest patches available from the Eovia website
Configuring Linux
Linux needs to be installed with network support and a graphical front end such as Gnome or KDE. You may also find it helpful to install a Samba client as that would allow you to copy files from your Windows machine to the Linux machine, I transferred all the necessary files via a web based email so did not need this.
Installing and Configuring Wine
It is recommended that you login to your Linux machine as root to install Wine
Wine can be downloaded as a package (.rpm) and installed from the WineHQ website. There are equivalent packages for other Linux distrubutions.
Wine can be configured with the tool Winecfg. For this system, the default operating system was switched to Windows XP mode.
Question for experts?
Do you install Windows Applications in Wine as a user or as root?
VC Runtime
These files are needed for Carrara to run and can be downloaded from Microsoft Ref:Q259403. The VC6RedistSetup_enu.exe will decompress to a new file VCRedist.exe that then needs to be installed.
Installing Carrara Render Node
Simply run the setup and follow the prompts as you would on Windows.
Service pack
The R2 and R3 service packs currently errors so I have taken to installing that onto a windows machine and copying them into the equivalent folders on the Linux machine. You will find that Carrara will not allow a R2 workstation to communicate with an unpatched node.
Add-ins
If you have any extensions then you will also need to install these on your Linux machine. You also need to be licensed for these.
Firewalls
You need to ensure that the 2 machines can talk to each other. So it is best to configure your firewalls so that the machines are trusted. Don't forget that the ports mentioned are the inbound ports. If you monitor the network you will see that the outbound ports are different.
Running
Don't expect to see much from the render node whilst it is running. However you will see a subtle difference in the local nodes as the network rendering squares will show as blue N rather than a yellow 1.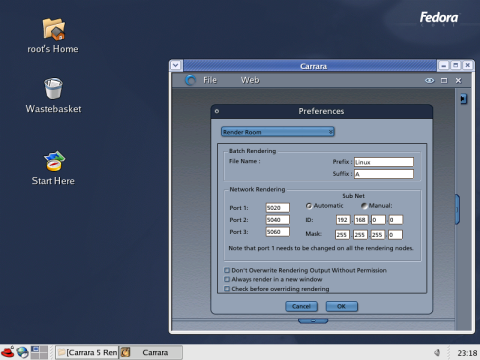 References
Details for running version 2.0 of Carrara on Linux.
Email : Andy.Clark@Dial.Pipex.Com